Here instead of pictures of my girl's clever birthday invitations that I was starting to work on, followed by pictures of an awesome cake and party, in the "magic" theme that was the choice for the year. I present these...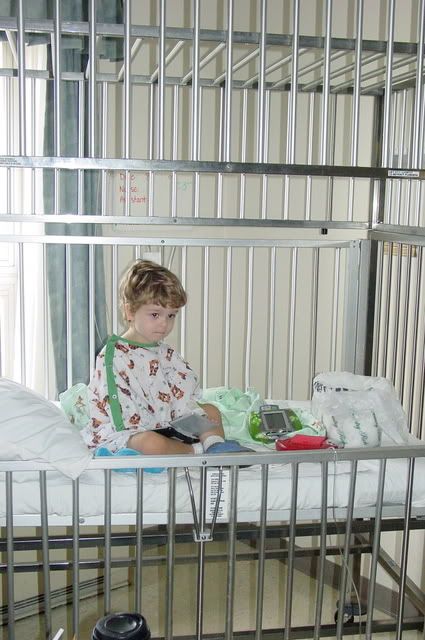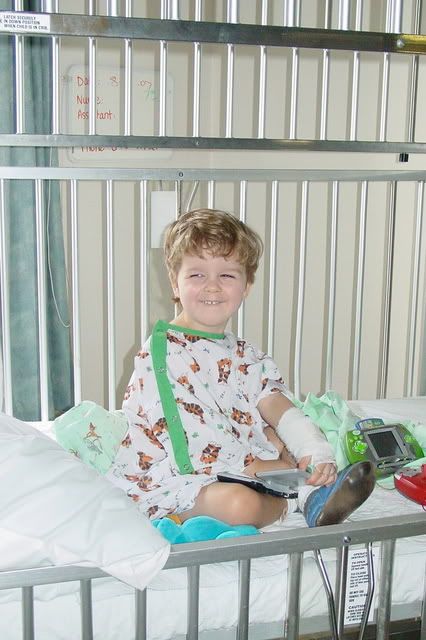 My son in a "cage bed" at the hospital. Just the fact that I am taking time for a scrapbook moment is an indicator that at that point, all was well. It was scary for a bit and then fine. He bumped his head last Tuesday. Seemed fine. Woke up late Wednesday throwing up and lethargic. Frenzied ER visit with talk of airlifting, spinal taps, low low blood sugar and pressure, the works. Perked up after awhile and admitted him overnight to watch his progress. Prognosis was a closed head injury and dehydration from all the vomiting. Lasted three days between hospital stay and recovery day at home. So between that and my looming freelancing deadlines, the party is postponed until next weekend and the invites will be by phone. It works. Just come and eat cake, okay?
Grateful to have my boy home healthy and happy, but feeling out of sorts for the lack of birthday zeal. I offer last year's bragging points as a runner's up sort of crafty post. Last year I made the girls all little princess robes and sashes, and boys wizard robes. The hats here were purchased. Invites done in photoshop with a very willing model. This year we made cool wands and that was as far as we got. I will include pics and a link with the actual birthday post.