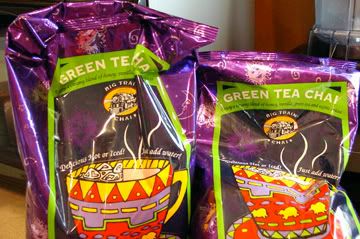 Yesterday we received a shipment for chai. Four 3.5lb bags of Big Train Green Tea Chai and it should last about two and a half months. When our small town bookstore added a coffee shop my husband had nightmares of never seeing me again. He likes books but plays video games more, and he HATES coffee. Books and coffee somewhat define me.
Then he discovered chai. Not real chai, the kind that is made from tea bags and spices. Pre-mixed sugared-up chai mixes are his crutch. Either the above kind or Cafe D'Amore Tahitian Vanilla Chai. A very specific addiction. This shipment might seem like a ridiculous expense. It is in fact my attempt at being frugal. It is 1/5 of the price of a bookstore drink and it really cuts down his visits there. Oh, yes, he still gets them there too.
At least he quit Mt. Dew. Oh, and as to his fear of my reaction to the bookstore/coffeeshop opening? I just drink plain old coffee or tea, mostly made at home, and haunt the library. Who has extra money with all that chai to buy?