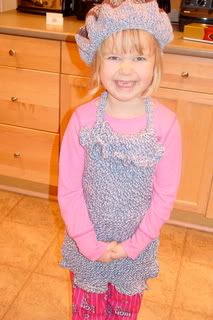 Knitted art apron and cap.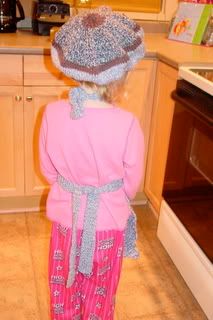 The hat is sort of large. It ended up more "strawberry shortcake" than artistic beret. But that probably appeals more to the girl anyway.
I have a love/hate relationship with knitting. I love to do it, it soothes me and I get a great sense of accomplishment from it. I hate it because I don't like the cryptic knitting instructions, so I try to make up my own stuff. Then it all comes out looking sort of grannyish. But I like it anyways. I also get sort of insane about finishing a project. I sort of can't stop until it is done. This is bad when there are other things to do.
I liked the idea of a knitted art apron because I was picturing the soft absorbability of a knitted dishcloth. And I used up the leftover yarn from a blanket I knit for Christmas. My daughter was worried about getting the apron dirty, but since it was leftover yarn, and cheap yarn to begin with, it is actually a lot less than the cheap canvas aprons from the hobby store. I don't count the labor cost. It was therapy.