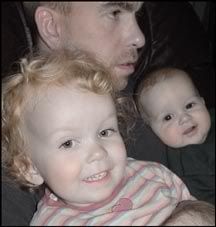 When my guy and I got married the last thing on our minds was Easter falling on our anniversary. Actually, the main thing on our minds was whether or not we would get the hallway painted before the ceremony. (We opted for a wedding at home and of course wanted everything to look nice. I wanted to elope. But I am not bitter. Painting the hallway on my wedding day was fun. Kind of like egg hunts on my anniversary. But different.) We were a bit surprised when Easter rolled around this year on the big day but unless lifespans change with the advancement of stemcell research, then we won't see it again. So we bought a lottery ticket to celebrate the coincidence. Could happen...
But due to the shared holiday I missed my "Happy Anniversary" post by about a half an hour. That is not so bad as we were sort of crazed with the chocolate and plastic eggs and ham. But I had to post anyway because he makes me so happy. I so love the guy that the cheesy, lovey, sappiness of how I feel inside would instantly turn your eyeballs to cotton candy if I were to express it properly. Even after nine years together.
So Happy Anniversary to us. And here's to many more (non-Easter sharing) anniversaries to come.