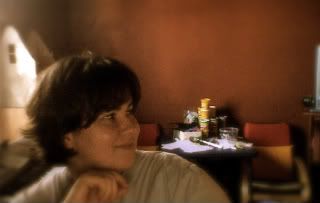 This is my attempt at an artsy picture that is supposed to depict me dreaming about the future crafting space that will inhabit the wall behind me.
We live in a small space which we actually like, but it makes for reworking our living spaces whenever needs change. Needs are currently changing and we are looking at turning our computer/office/piano/kidcraft/kidgaming room into more of an official crafting/office area. This of course has me EXCITED, HYPER, happily scouring the internet for ideas to cram all my crafting room hopes and dreams into a small space friendly, small budget friendly area.
Right now the idea is to take a prefab 8 ft. countertop and lay it across one end of the room in question (9 ft room). We picture it would rest across a couple kitchen counter type bases which would serve as some craft storage. The walls above and beside would also serve for storage whether through shelving or cabinets (not sure yet.) Any ideas or links from outside sources would be appreciated.
I am so ready to dive into this project. The idea of having a place where we can craft and leave the projects out until completion - a place to do lessons all spread out next to each other - to reclaim my dining room table! Wow, to dream.