We have been crazy busy. My husband has kicked the whole art/school/office construction into high gear and we are all surviving the chaos. We're excited, yet very tired of the mess. There have been some tantrums, kid versions and grownup. Clutter does that to us. I have been collecting photos to blog and unfortunately every one of my husband has a sarcastic look on his face. He even told my stepson not to get involved with a girl who blogs. The nerve!
Anyways, I am not posting pictures of the "new" art/school/office room yet. Except for a couple elements of the remodel that feature my kids' wacky cuteness, but those won't ruin the surprise. Once it is totally done then I will do the typical before and afters. I am a perfectionistic dork with a vision. Just ask my husband. He will heartily agree, especially after this weekend.
On with the cuteness...
Kids in boxes.
Manicure fun.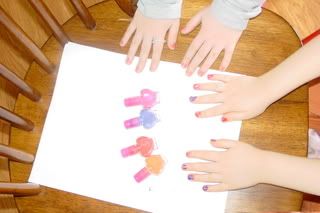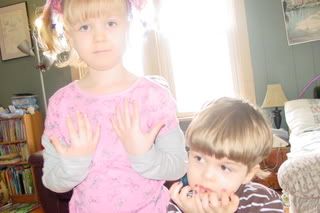 My son kept asking me if boys wore lip gloss and I kept telling him yes. Then he asked me what lipgloss was and I explained chapstick to him. He then wanted to know what it was that my daughter was putting on. Nail polish. He then wanted to know if boys painted their nails too. Ever truthful, I told him yes. So guess what he did, "all by himself" too, and he had a blast. He wants to be a drummer anyways, so it works for him.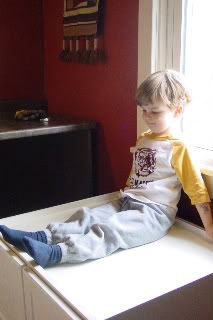 The boy just hanging out.
Tooth fairy love. My daughter told me she had a new loose tooth, but told me not to worry because she had everything all ready for when she lost it. Later I stumbled upon this.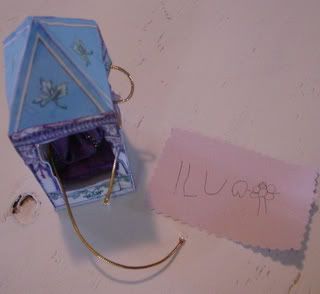 Tooth fairy house from
here
. And blogged about before
here
.
Her new thing is to try to write without asking me how to spell stuff. So she does a combo of sounding out, code and pictures. Here is her note to the tooth fairy. ILU = I love you, (in her written language). The other things are pictures of a tooth and a fairy. I love you tooth fairy. Melt my heart. When that tooth comes out, the tooth fairy is going to be very nice to that little girl. (I don't know how the tooth fairy will write her the usual note back this time since she always used to borrow my photoshop to do so. With the computer that has photoshop on the fritz that chick is going to have to figure out something new.) Hmmm....