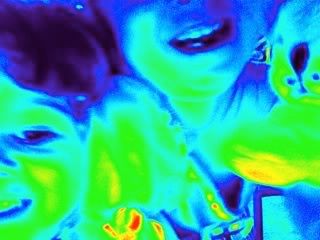 That is how my head feels right now. We saw Spiderwick Chronicles today and it was good. But I really don't like how loud movie theaters get. I always end up with a headache. Add to that a kid who also doesn't like loud movies who ended up on my lap half the time, about 20 loud youth groups. (For like a hundred or so total teenagers doing teen like things all around us.) Whew, I needed some decompress time after that. But, instead my guy decided that going to Burger King to eat inside by the playfort thing sounded better. Um, okay. We NEVER do that. It was so strange and not really the best of all possible plans in hindsight.
Then... I went shopping for new jeans with my mom. It was one of those huge sales that was 'over in 40 minutes and gosh you'll be so mad if you don't go' sort of things. Sigh. Trying on jeans after eating theater popcorn and fast food does not make you feel like looking in the three way horridly lit mirrors. No, no, no.
So, I am now finally decompressing and feeling a bit overly dramatically blue. I think I will knit and pretend that tomorrow is not actually Monday. I feel like I need a big change for spring. Like going back to raw food. Talking to the father-type person yesterday brought all that back to mind. I wonder if I could swing that on my budget. Hmmm... something to think about. I will ponder it while I knit and pretend tomorrow isn't Monday.