I was at a loss this morning when I brewed a pot of coffee and couldn't find my favorite coffee mug. It was sitting with the load of unwashed dishes in the dishwasher. What to do? I handwashed it of course. It just seems wrong to drink from a different mug. Here is a photo of the beauty. It is tiny by regular mug standards, but keeps my caffeine addiction in check. Not to mention it is fun. I found it at a thrift shop last year.
How cute is this?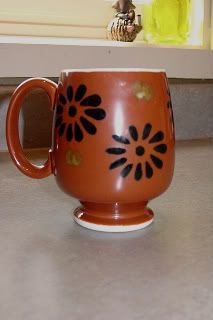 As for tea, my favorite mug of late is my handthrown earthen colored mug which sits in direct contrast of my daughter's sweet girly pink cup - made for a princess. How well these mugs reflect our personalities.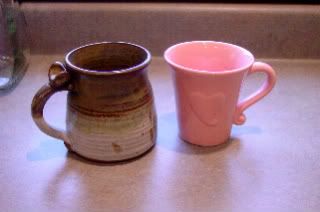 For use during tea time, where my kids had full reign in picking the snacks, decor and reading material. How's this for a spread? Sugar cubes, cookies, Yogos, Fruit by the Foot, Doritos, cinnamon almonds. Holy sugar coma. Oh well - it's in the name of loving literature right? Someone pass the Doritos...
My favorite of favorite things? They throw a good party.