I wanted to do a tutorial on how to put together the clay pictures I like to make (like the detail picture on the top of this blog). A few people have asked me how and so I kept track during my most recent undertaking. I will just fill in a few steps here and there as time allows, then maybe link them all together at the end to make it easier to find later.
Okay, on with the clay picture tutorial.
First you need a sturdy frame. I like to use old window frames as they are usually free and a lot of people dig that look. They are also really sturdy. Cut down some cement board or pressed board to the size of the frame. Prime the pressed board. I have also used lighter frames and foam core board on smaller pieces with great results. But on a larger piece like the one here, stick to the heavy duty stuff as the clay itself has some heft to it.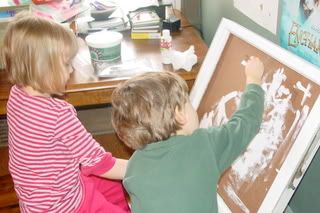 I recommend the use of all and any free labor if said labor is at all inclined to participate.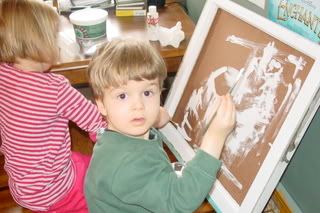 "You mean we aren't getting paid?"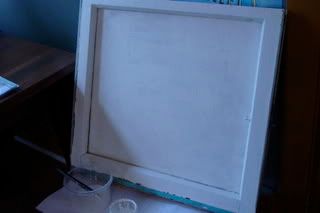 Ready for clay.
That is all for now... part II coming soon.
I am not trying to be coy with offering so little. I would put more, but the owner of this piece hasn't seen it yet and I don't want her to see any of the important parts on this blog before seeing it in person.