I have found that life does not exist for magazine-type room makeovers. Life needs to move on before all is perfect, and one project seems to be born from another - sort of extending the whole reworking process. So I really have no big beautiful reveal pictures of our new craft room. In all honesty it won't be totally done for a few weeks probably. But I can show my new favorite corner. Which just so happens to be the place that was my least favorite corner in the whole house before. The craft junk corner.
Here it was before the craft room redo: (Honestly it wasn't usually this bad, this was when I did the big "dump" of stuff so I could quickly clear the room before the construction. But you can see how much junk there is and how we could get more wrapped up in finding the stuff to start a project than actually doing a project.
Plain chaos.
Here is is now: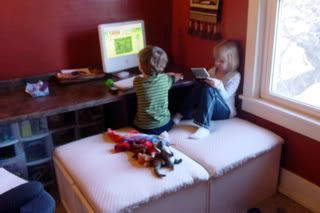 Not totally done, but so getting there. There will be shelves above and maybe a bulletin board or something along those lines. Notice underneath the desk, all the lovely rows and rows of clear pull out drawers, each with its own theme of craft item. Heaven.
Close up of my personal project: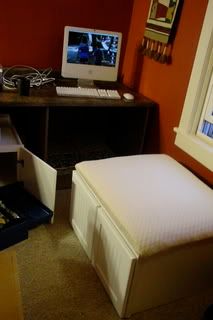 My husband came home with these clearance cabinets ($50!) and we realized they were too wide to hang on the wall. So we made them into moveable window-seats. I upholstered a couple boards with an old eggcrate bed liner and clearance curtains. Not the best upholstery job ever, but probably the most cozy place ever to hang out on the computer or craft on. Safe for very feisty little kids too. Most unpredicted portion of the project and most loved one so far.
An early shot of the whole counter: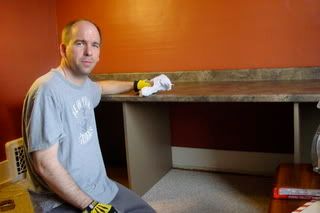 With my husband who is thinking, "Woman? Is it not enough that I am spending my weekend building you a craft room to stop the insane clutter around the house? Must you keep taking my picture when I am unshowered, under-nourished and seriously doubting our relationship?" I love that guy.
So that is my awesome new area so far. It was way more than I hoped for, but I was totally ready to slap a couple boards on top of some low bookshelves we already had - compared to that, this is just amazing. My husband wasn't at all into appeasing my frugal side that much. But he didn't do too badly cost-wise for such a huge visual and functional difference. The most expensive piece was the countertop at $70 and the cabinet benches. The rest was just boards and paint, and some blood, chaos and a few tantrums (but those were free, so it's all good).
Oh, the best part? I am short (5'2") and regular kitchen cabinets come up to my chest (aaahhh, that is NOT the best part). The best part is that this whole thing fits me so well. He originally wanted to put in a real kitchen cabinet set but I kept insisting they would be way too high. So my husband and his friend built these to accommodate my height and wow, what a major difference in comfort level. It is even shorter than a standard table height but it is still fine for my husband who is just shy of 6'. It makes it a nice height for the kids too, especially the one that likes to fall on his head a lot.