I am so behind on blogging. Not that there is any deadline here but my own, I still enjoy keeping track of the highlights of my days. The highlights being the cute stuff my kids do or projects we undertake to entertain ourselves. Since I participate in some swaps on swap-bot I don't like to post things I make for those until I am pretty sure the people have received the item. Don't want to ruin the surprise if they happen upon this blog. That leads to me forgetting about them until I log into my photobucket account. And once a picture is in my photobucket it must be blogged. So there you go. A clear picture of my OCDness.
Anyway... I joined a swap awhile back where we had to make a zillion bookmarks. It gave me an opportunity to use my new, lovely
colored pencils
my wonderful man gifted me with awhile back. I did three sets of Alice in Wonderland, Peter Pan and Juliet and an extra Juliet. They have quotes from their own stories pertaining to books on them.
Set 1: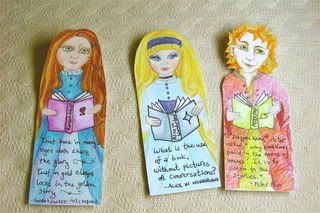 Set 2: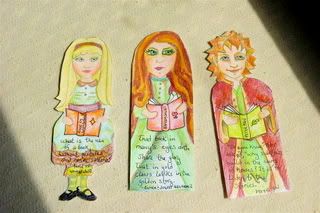 Set 3: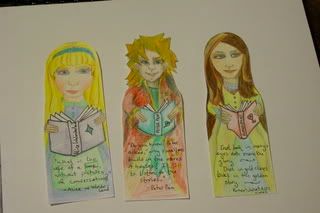 2 Juliets: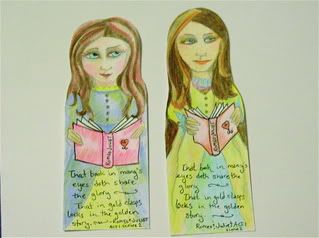 These were so fun to make. Someone asked me if I ever made a mermaid one. Now I must try it. My daughter made a bunch of bookmarks too and they were so cute. However, they got scattered too quickly to all ther secret little places where she squirrels things away, so I didn't get a photo op. I would search them out, but it makes my nerves ragged to venture into the scary territory where she hoards her 'collections'. Remember my OCD tendencies I mentioned? I don't do well with her system of organization. One that involves many bags within bags, that are stuffed in boxes and set in corners. Wait... what was I talking about? Oh yeah, bookmarks.