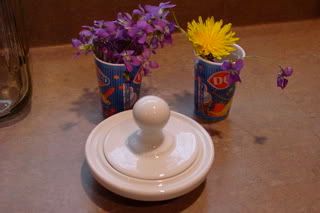 Is there anyone else in the world that got the combo of kid picked bouquets, a new mortar pestle and Police concert tickets for Mother's Day? Anyone, anyone? What a fun day. Not to mention my kids had their first sleep over ever with grandma. Did I get pictures of them all packed up, cute and excited? Nope,
I was too excited to head down to the concert!
I haven't found any youtube footage of the actual concert I was at, but here is a taste from another venue...
Memories of the concert:
• Group of drunk kids behind us (one who actually poured their beer upon the very cool, laid back couple beside us. THANK GOODNESS it wasn't my husband. My concert would have ended there... Hearing them lament that they were surrounded by a bunch of old people. Snort. Since both the Police and Elvis Costello have been around since before they were born, that would have probably been a clue that the crowd might not be as young and hip as they might like :)
• Hearing the same kids say... "I am not familiar with Elvis Costello, but I checked his Myspace and he seems to be getting popular since he's been touring with the Police." This is in response to why Elvis got over an hour to play before the Police. Can I say AWESOME concert for those of us who loved Elvis Costello before there was a myspace on which to confirm his coolness.
• I loved how enthusiastic and upbeat the bands were. Like they were happy to play our smallish scene. They seemed to have a blast. Played an amazing show and everyone just seemed overtaken with the energy of it all by the end.
• Just the whole experience. The drive with my husband. The calm before the concert, an hour sitting in comfy seats watching the stage get set. Watching people. Hearing the band that turned me into a music lover play. It was such a great time. Thanks mom for watching the kids!!! How is that for Mother's Day? As a gift to my mother I dropped my kid of for a day and a night? She's cool like that though. My kids didn't want to leave so I the visit was a success for them as well.