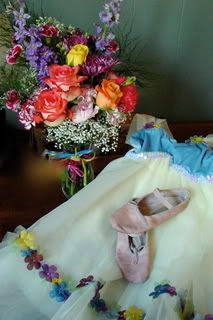 Recital time again. Here is my account from last year's
thang
. This year the event completely snuck up on me. I just realized last weekend that WOW, next week was the big thing. And yes, it is sort of an exhausting type of big thing. Sort of over the top in my opinion, but close to heaven in my child's eyes so we continue the makeupy, hairdo obsessed, flower-filled, foofie dressed madness. This year there were some exceptional male dancers in the performance and my son sighed a huge sigh and exclaimed, "I can't wait until I get to dance!" Ummm... so karate is out champ, and tap is in? WHAT?! Not that I mind that at all. Dance is cheaper and only once a week. But that is a bit shocking from a warrior, jedi, ninja... So we will see next September when his age makes him eligible for either. What will the big choice be? I know I am curious! Either way I am happy that for him, curling irons won't need to be involved.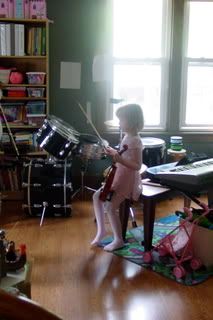 We started the day with a non-dress rehearsal, hence the regular leotard. Then we had violin and piano lessons, her teachers are our friends so it was a very fun visit. I couldn't resist the pic of the girl playing violin in a leotard. So in your face artsy.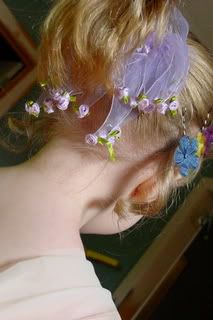 Then we had to get ready which means hairspray and curling iron. Ummm... I am not talented nor familiar with such items, however LOOK WHAT I DID! Cute, no?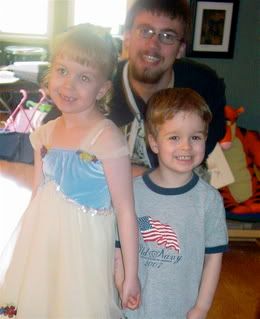 Look! A rare older brother sighting! And he is looking at the camera and smiling with no electric gadgetry hooked to his head. Check out his ability to grow a beard better than his dad. Wow, that makes me feel old more than any other thing.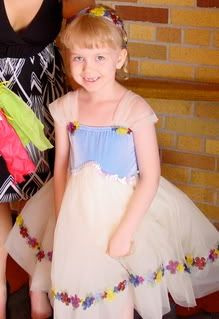 This is my ballerina back stage with a person that we should all pretend is me. I mean, in my heart that is how my cleavage and legs look...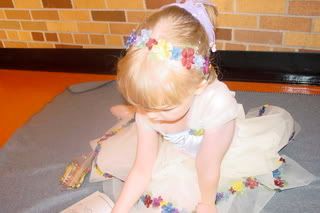 Her home for the nine million hours of the performance, except for the ONE dance she is in. I am not mad she is only in one dance, that is the only thing we have her signed up for. It is just a long time for someone impatient like me to wait! :) She loves it though. It is mega- Lord of the Flies time for my girl backstage and what kid doesn't love that kind of freedom?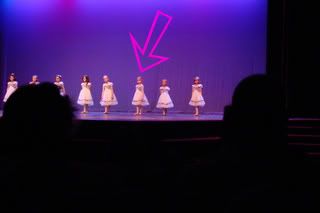 Three hours later...There she is!
Zoomed in...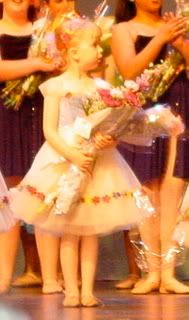 Here she is waiting in anxiety for her perfect attendance rose. Which according to her was the best part of the evening. This is very funny to me. I am not a perfect attendance sort of person. I am more of a 'how many sick days do I have left' sort.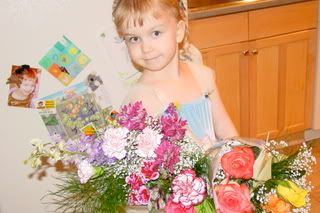 A successful evening.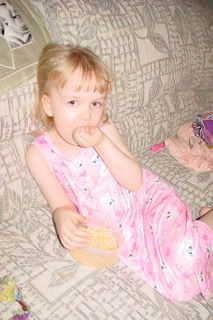 The after party where she is hitting rice krispies straight up...