This is the episode where a tiny bit of 'real life' meets 'blog'...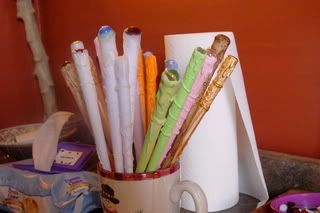 Wands in limbo. Waiting for a few coats of paint and jewels and all that good magic stuff.
This photo is brought to you by my daughter. Who seems to be in sole possession of the camera these days. When I take photos I do it with a desire to control my world. I purposely leave out the messy corners, unfinished paint jobs, children having tantrums... But my daughter embraces all of this in an effort to chronicle her whole life. I find it sweet, refreshing, and sort of stress inducing as I like to pretend my ducks are always in a row. Hey, it is my fantasy internet world.
A week or so ago I ordered a 50 count set of cd-rs in a panic when I realized I had no more disc space with which to take pictures of the 'great recital'. And after an odd ordeal that involved UPS thinking they delivered said cd-rs to me two years ago, we received them in time and I dutifully took the required thousands of pictures of said event and then decided I didn't need to see the camera for awhile. The daughter seized this opportunity and I quickly labeled a few cd's for her in effort to preserve the rest for future use. She has a knack for using up raw materials. Expensive raw materials.
I then set her free to capture life's messy corners and she did me proud. Since I still have control (which I refuse to give up while my mind is still able) I have only selected a few of my favorites from her journey. She had so much fun doing this though that I am seriously looking at getting some
Adobe
software for next year's schooling efforts and giving the kids some graphic design knowledge. Might as well let my photoshop training get some productive use after all. There is a ton of
information and lesson ideas
on the Adobe site that I have been digging into trying to figure out if I can justify the cost of the software. My heart yells YES, my pocketbook is less enthusiastic. But we'll see. There's good stuff on here for a family that likes digital art and computer stuff.
Okay, this was about pictures after all, what's with all this yammering on already?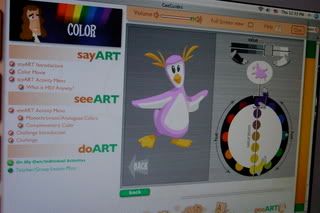 Her favorite website. Of course as homeschoolers I sometimes feel like I should be all anti-tv and computer, but in reality they are a part of our every day life.
More screen time here with her (our) favorite tv show, Avatar, the Last Airbender. And a quick shot of the brother running to the potty already tugging down his drawers. He comes out of the bathroom in the same state of disarray. This is especially charming when we have company.
Here is her artsy shot of a stuffed animal. Notice the way the room behind said animal looks all cluttery to the point of inducing panic attacks. Feelings of claustrophobia as if you were working on a ship like this one...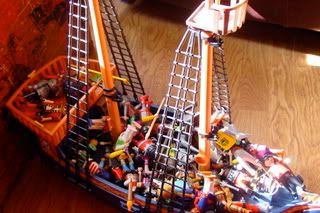 (I like how she captured the pirate ship in front of the antique pirate ship toy box. Totally intentional I am sure.)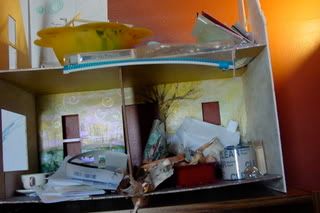 Again with the clutter. Enough already. Anyone want a drink? Gin?
Expensive raw materials wasted. Oh, excuse me. My daughter's craft project that includes pathetically expensive little gems taped onto a piece of paper. This is like a five dollar piece of paper now. My husband thinks it is pretty. I grudgingly think so too. I am too cheap to fully embrace it.
My son's children: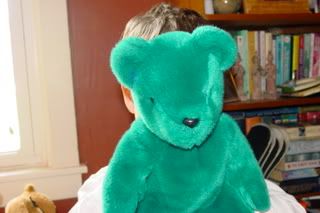 Bear. This is pronounced. Buurrrr. Like Nelly in it's getting hot in huurrr...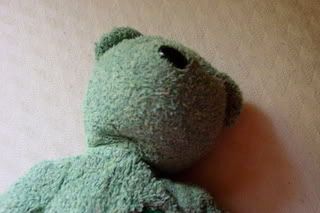 Lucky Clover
Mr. Happy. He must be getting all lippy here or something. There are actually two Mr. Happy's. Like that show with the brother Daryl and the other brother Daryl. Alas, I have only one photograph.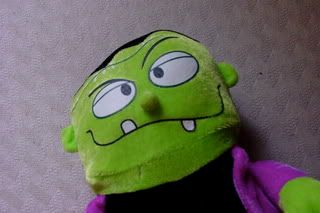 Little Monster. He also has a Cookie Monster that didn't make the photo shoot. My son is adorably paternal. Sometimes he sighs and says, "I wonder what my honeys are going to look like when I am a daddy." How cute is that? He wants four or six kids, but he wants his wife to stay home with them while he gets to work. Oh, and he wants to marry Bindi the Jungle girl. Good luck with that sweetheart.
Here is a little forgotten corner. My entry that houses my old "frog collection". I no longer collect anything, as most of my spare time is spent getting rid of things it seems. But these are still here due to the fact that they are stuck to the window ledge due to humidity, extreme weather fluctuation and my lack of dusting. Notice the need of a fresh paint job as well. I noticed.
Oh and a parting shot...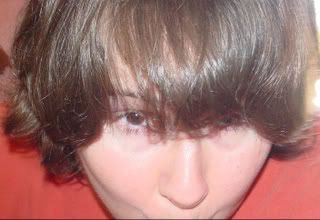 Isn't that a lovely mysterious shot? What am I doing here? Trying to drink a very thick shake? Doing sit-ups? I have no idea. (Well I know it isn't sit-ups. It has been awhile since I've gone there.) My daughter does have a knack with candid. I lovingly refer to this as my '90's Euro-boy look, complete with party all night dark circles. Only mine are just from old age and co-sleeping with my kid and his six 'children'.
So this is my hat tip to my girl and her photog skills. She likes to keep it a bit more 'real' than her mother. :)