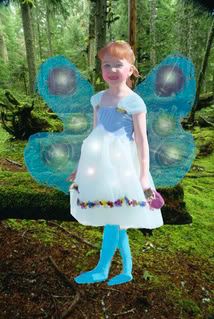 Here is her latest digital creation using our new Photoshop program. She just loves it and absorbs every little menu and shortcut I show her. We've covered layers, history, healing brush, opacity, lens flares, different brushes and menu tools, hue/saturation and some contrast, lasso, magnetic lasso and fill... and on and on. All in a couple days. It does my heart good to hear her say things like, "Mommy, what is the shortcut for the hue/saturation menu again?" And I can thank GeeArt 16 for priming her on what hue and saturation is. Fun stuff. However, I am finding it harder and harder to find time for myself on the computer. We've had a lot of time together on the computer and so that has been very fun.
On a side note, I started a temporary job today. The other day I whined to my husband (and the universe) that I wished I had something that I could do for me outside of the house at least once a week. The next day my old job emailed me and asked me if I could give them any hours to help them through a busy patch. (Thanks universe. Now about the lottery...) And though we are in the midst of our busy home insanity, I jumped at the chance. I only promised one morning a week at the office, probably Fridays, and that I would do some stuff from home when needed. I will also run in on random afternoons if my schedule and desire level coincide. They are really open and grateful for any time I can give, and I couldn't ask for a more perfect fit for what I was looking for. A diversion that I can get paid doing. Awesome.
So off to the office I went today for four hours to do graphic arts stuff again. It has been three years since I did that stuff and I was up and running within 15 minutes. Only this time around it was all fun, fun, fun. Looming newspaper deadlines are nothing compared to people demanding food constantly :). I just left a message on our home business phone that I would be back in the office by 1:00pm and every person who called left a message! I was able to return all the calls and schedule them all, so no profit was lost by me being away for a few hours. Oh, and the kids hung out with big brother and grandma and had a blast. It has been such a fun way to get out of my recent slump. I always used to joke that the way to get over feeling overburdened was to get busier, and it still seems to be the case for me.
Wishing everyone a happy holiday weekend!