I figured that if I work on one tiny thing most week days I will actually finish my dollhouse. I'll post my progress to try to shame myself to keep on going. Today I made a few magic wands and assembled the base of a bed. The bed still needs some paperclay to fill it out some, then paint and baubles. The wands are hard to see in the pictures, but I am pleased with them. The largest wand is just under three inches long. They have crystal beads on the ends that don't show up well in the pics.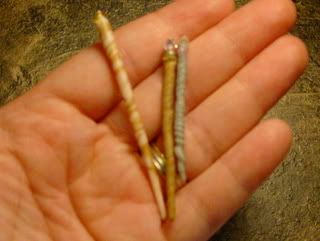 Blurry pic, sorry. If there are any palm readers out there, I just don't want to know - okay?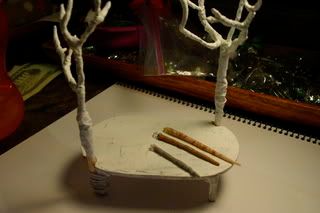 Wands on the bed. For the finished bed I am picturing layered mattresses and pillows, Princess and the Pea style with a bit of Arabian Nights thrown in. With beads hanging from the tree branches.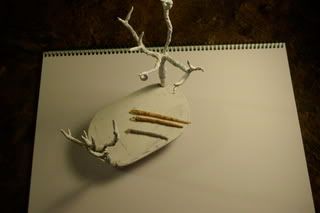 White on white pic I had to throw in for arsty points.