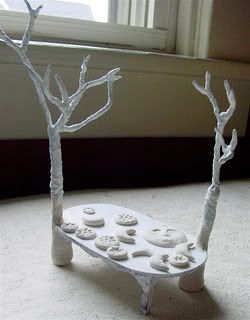 Filled out the bed's 'tree' legs with
paperclay
. I so love this stuff. I made a
halloween mask
from it last year (which I never photographed finished), but almost ruined it for use with super stinky adhesive that rendered it useless as a mask for a long time. But the paperclay was a supreme material to work with and paint.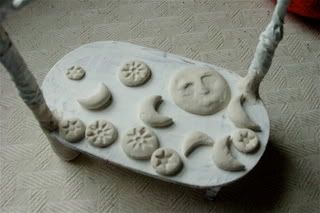 I then used up the little chunk of clay by shaping little circles and moons to use later in decorating the dollhouse. I stamped them with the bindi stampers I got from
Second-Cousin Traveling Amy
.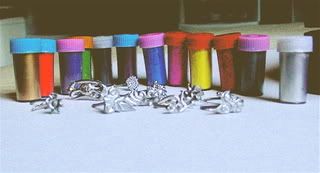 Bindi stamps and powders. I think I might even use the bindi powders for color effects when it is time to paint the bed and baubles. They are so vibrant and shimmery. Perfect for a fairy-themed dollhouse, I think.