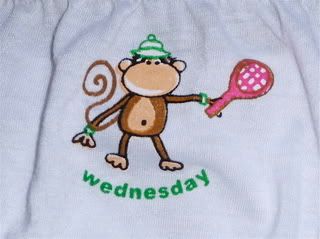 It only took me a month, but today I got it right!
(Pic taken of the clothes pile, not while on the child.)
I don't have a lot to add to the great depths of parental wisdom that is floating out in the blogosphere. However, I do have this...
If you have a child who is PAINFULLY perfectionistic, please, please, learn from my failures and refrain from buying your child 'days of the week' underpants. Because eventually life renders a busy parent incapable of keeping said underpants current... and eventually that perfectionist child will learn to read. This is a bad. bad. combo. Trust me.
One needs a comprehensive laundry plan to prevent underwear-derived morning angst and identity crisis. I do not have a functioning laundry gene, rendering me incapable of such sport. So I tried to remedy the situation with a 10 pack of Disney Fairies undies. It mostly works but the pesky 'days' keep showing up, always on the wrong day of course.
Today, however, it was as if 'Wednesday' jumped right into my hand, and the birds sang and all was well in the world. Oh, except the economy. And the health care system. And the gas prices. But hey! I have a seven year old that feels like she can saunter the balance beam of life on her tippy toes, and that is a start.
Who invented these things anyway, and why? Not brave enough to google the word 'underpants'. Nope, nope, nope.