New art! To hang
when
, (not IF, hear that inner pessimist?), my walls are finished. Yes, they
are still in flux
with no bookshelf to be seen. However, we've made an exciting decision to create a poor man's type built-in unit on one wall that will take the place of multiple bookshelves around the house. So... possibly the delay will be a good thing as it gave our minds time to hatch a better plan.
Awhile back
I ordered a photo
, taken by a friend of ours. Here it is! How odd to take a picture of a picture. This is of a bridge that we regularly cross on our favorite hiking trail.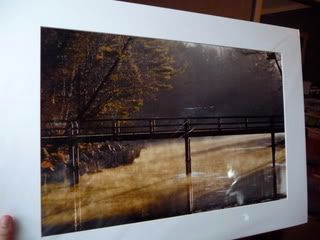 I love everything about this picture. The location, the wisps of fog off the water. The coloring. Sigh...
Also a few weeks back we took
our little budding photographer
out on a hike and
set her free with a camera
. She came away with some amazing pictures, so I had to order my favorite one to add to our soon to be amazing, freshly painted walls, (hear that inner optimist?).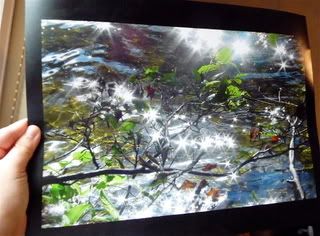 I also love everything about this picture. The sparkles. The colors. The fact that my daughter took it. :)
I will post pictures of the finished project. It shouldn't take long. We're only a homemade wall unit, about three coats of textured paint and a couple of picture frames away from completion. :)