Out of three days and two nights vacation, I only managed to take 23 pictures. This is especially amazing since I have been known to take over a hundred just at the playground. We were on serious vacation though and completely gave into relaxing and just hanging out. It was perfect.
Of course at a Renaissance Faire the most spectacular things are the costumes people deck themselves out in. I feel weird taking pictures of strangers even if they don't mind, unless they are actually part of the show. So I can blame that on part of my picture taking slackerness. But really, I was just embracing my inner lazy self.
Our Queen. Here she is telling us how much she loves us. More than any queen or king before, and more than any to come. I believed her. I am writing her in on the ballet in November. She's witty, attractive and can handle bawdy knights with charm and a bit of viciousness. I am sure she'll rule well.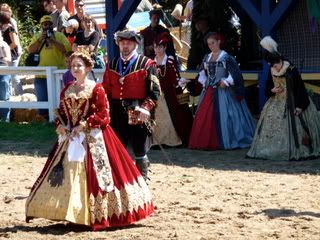 Here was our champion during the 700º joust. I don't know how the horses or knights could handle the heat. We couldn't and left the joust early. The rest of the place had a nice breeze and lots of shade. For some reason the joust was broiling.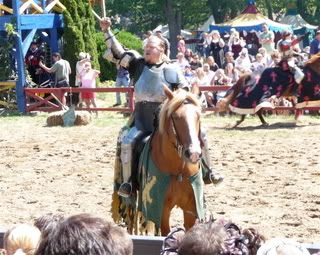 Where we went after the joust. The Mermaid Inn Coffee Shoppe.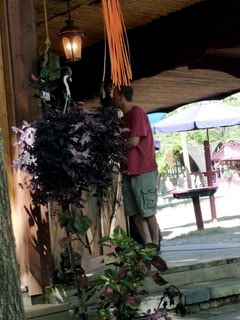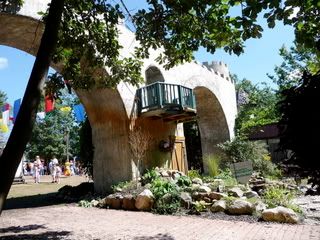 One view from 'our' table.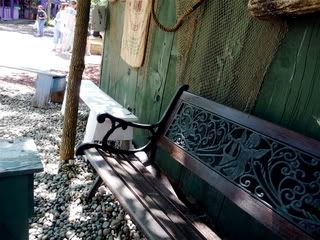 To the right of 'our' table. Just a sweet little table tucked in a little shade garden. Can't you just feel the cool breeze and hear the minstrels play?
We became regulars at this little 'ye olde coffee shoppe' place. A nice shady spot with a great view and lovely music, where we sipped our iced coffee (me) and iced chai (him). This is where we realized that there were shows going amongst the 'cast' of renaissance faire actors. We've gone to these things for years and have probably seen all the regular shows, but never realize the cast around us were all performing as well. From this spot we watched nuns recruiting wenches for the lord, barbarians carry off the may pole girls,coin dropping guy and coin finding wench, pirates plotting. All sorts of characters in this make believe world. It really soothed our voyeur-type souls.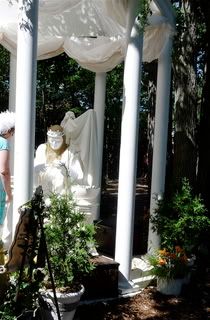 Creepiest thing at the fair, the living statue. My husband wanted me to get my picture taken with her. No thanks. I'll be having enough nightmares about her as it is.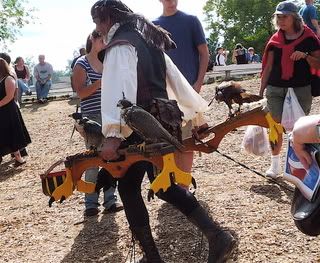 The falcon guy. Seriously. Some people really get into the ren fair. Dressing up. Accents, makeup, tattooing. However, this guy actually raises falcons. That is a serious commitment to the alternative universe.
The fair, hotel room, and restaurants were amazing. We found a huge bookstore and a craft store. The traveling itself was pleasant. The only rough patch was when my husband and I almost left in the middle of last night because we were missing the kids so much, but we got over it and even made plans for another trip six months from now. And did the kids miss us? Sure, but their first words when they saw us were, "Nooooo, not yet! Grandma said we could stay at the playground a little loooooonger." Grandma spoiled them properly. :)