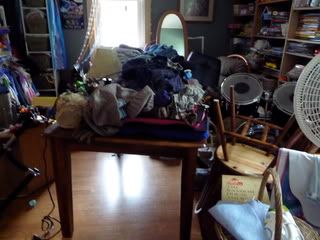 First we had to do this...
Then went from this... (this was after we already painted the walls with the horrible textured paint and gave up about a month ago. I guess I didn't take a proper before picture when the walls were still green. At least not that I can find.)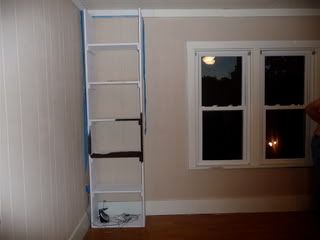 To this.
It doesn't look like much from the pictures but we actually painted the walls again with the texture paint. We used fat rollers, thin rollers, brushes, then finally I was just smearing the stupid stuff on with my hands. Which worked the best. Finally we gave up and bought regular paint and covered up the whole darn mess. Whew! You can't look too close because it seriously looks like some of our walls have bad cellulite. But hey, at this point, much like my thighs I am embracing it as a sign of surviving far enough to make life interesting.
We actually have one more shelf unit built and up. Just forgot to take a picture. The brown on the shelf was us trying out color. We went with a kraft paper brownish instead. So far so good. By the end of next weekend this project should be OVER.
Just in time for new projects where I can use....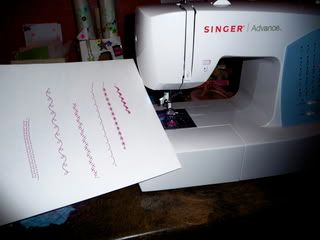 My early birthday/Christmas present! Yay!
My old sewing machine gave out Sept. 2007 and I have been hand sewing whenever the need arises. Including the kid's halloween costumes last year. Yikes! My kids' dance teacher asked me to sew a couple costumes this year so I cashed in on the gifting season early. Besides, with the way the economy is, come winter we might not have the money to buy one! Gosh that is so bad to joke about isn't it? Oh well. I am tired. I'll blame that :)
Happy not Monday everyone!!!