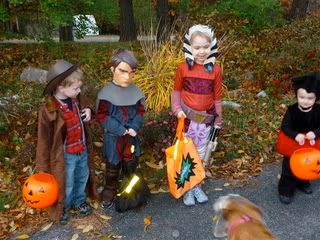 The gang. Yes, my son in his Anakin mask is a bit off putting.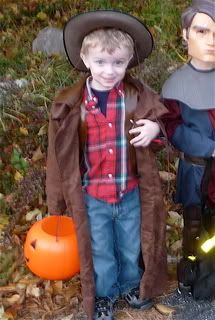 My nephew, the sheriff. He talks to me on the phone a lot. He calls me his 'very best friend'. Sigh... He is my little sweetheart.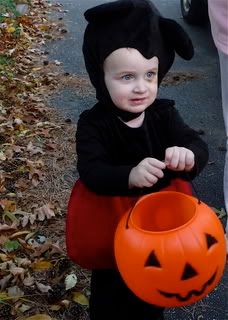 My baby nephew. Notice his gorgeous shiner. He's a climber and heart attack giver. He talks to me on the phone too. I don't know exactly what he says but I know hear the word 'stinker-butt' often in our conversations. I am pretty sure he's talking about his mommy. This kid was READY for Halloween.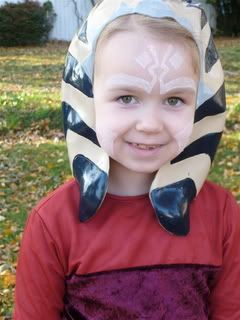 My daughter, Asohka, the jedi-padwan of Anakin in the new Clone Wars. I know it is hard to believe, but not one person knew this where we trick or treated. The closest guess was Jar-Jar Binks.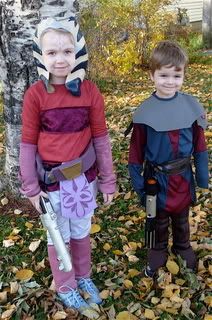 My Jedi. It was all about getting to carry around light sabers in public of course.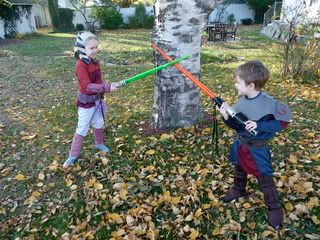 See?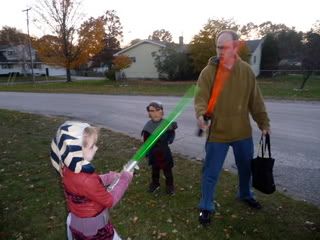 They get it from their father.
Seriously. They stopped trick-or-treating for a small battle.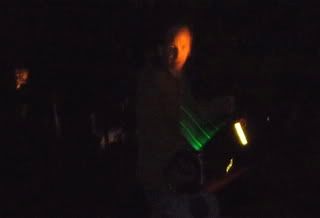 The battles were even more fun in the dark.
Candy. Costumes. Battles. Halloween should be a quarterly holiday. Any holiday where you walk around in costume and strangers give you candy is brilliant. Much better than cooking, cooking, cooking, small talk, eating until pain sets in, dishes, dishes, dishes. I think since the weather is so darn awesome this year we should skip Thanksgiving and redo Halloween.