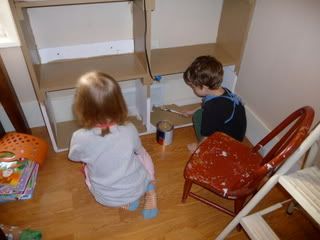 My kids are older and this is so fun for a mom who likes to 'spread the wealth' when it comes to chores and such. :)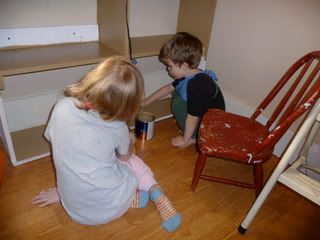 Of course, asking kids to do an 'adult' task, means running the risk of things not turning out as perfectly as desired. But still, it beats
me
bending over to paint those bottom shelves, right?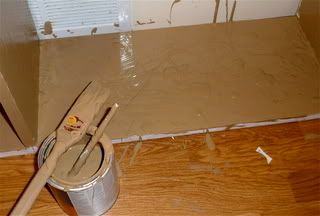 Or not.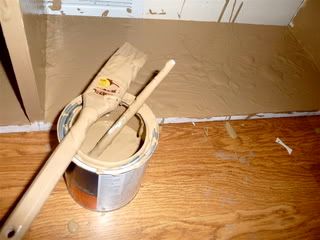 At first the mess seemed huge, but after I got out the camera I realized the drama level was actually pretty small. In fact, almost not dramatic enough to blog. So after I caught myself wishing it looked a little worse, I realized that having the kids paint part of the shelves was an awesome idea. They should be doing the 'real' stuff all the time. People don't magically learn life skills as soon as they turn 18.
I am actually the one who has been learning the most through this house project. I am learning to let go of control, breathe instead of hold my breath when there is clutter present, enjoy the process as much as the outcome. Though I have to admit, now that my house almost put back together, it is easier to feel sunny and full of advice. And my advice today is ... Give the little ones a paint brush and WHEN they make a mess, take pictures instead of getting upset. It stays fun that way. Then grab some rags and let them help clean up. Then eat chocolate, because well, that helps too.