I noticed this shot when I downloaded the pics.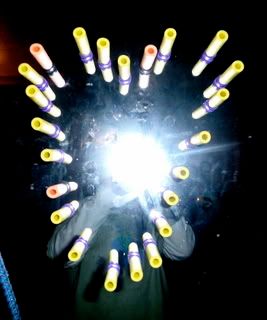 The kids have been painstakingly trying to shoot shapes using nerf guns onto the mirror. I find the fact that they 'shot' a bullet heart onto the mirror a bit funny. Like love with a side of violence or something. All the previous little smudgy bullet marks on the mirror are sort of nasty as my kids do tend to lick the bullets for maximum stick power. Makes it really nice to 'accidently' take a hit to any exposed skin.
I can thank daddy for the nerf gun addictions in this house. He's the biggest kid of all.