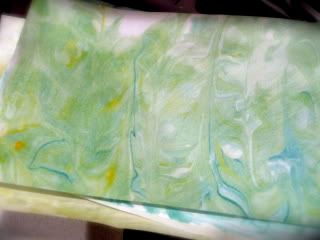 Oh, yeah.
Okay, I've seen this in a million places lately and I would love to credit them, but I can't remember what blogs I found them on. When I googled I came up with
this
,
this
and
this
.
This has been such an amazing find for me because I used to marble paper before I had kids, (and a sink drain that I was responsible for for that matter). I've wanted to make more but was daunted by the hideous work involved. I used to use the oil paint floated on wheat paste method. Stunning results but what a MESS! Not to mention you have to rinse the wheat paste off the paper running the risk of clogging your drain, and end up with a ton of wet paper that takes forever to dry. In fact, when I googled the only link I could find for it was
this
. Because I am guessing no one in their right mind does this anymore.
Especially not when there is the awesome shaving cream method. Where you basically just smear some shaving cream on in the bottom of a pan. Sprinkle any type of pigment you want - ink, tempera, food coloring, watercolor.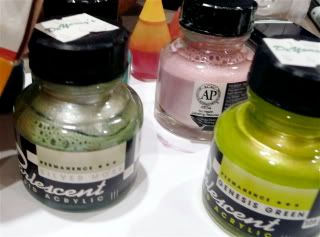 I used sparkly ink and food coloring.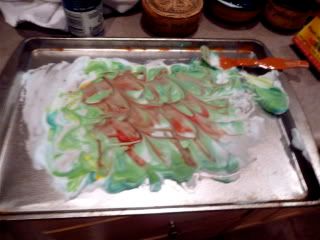 Swirl it around with a fork then lay the paper on top and smoosh it down a bit.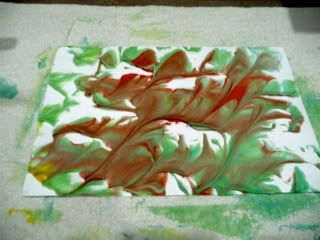 Lift paper off. I put it on some paper towel and then wiped it off with more paper towel.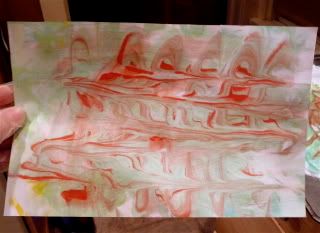 Voila! Marbled paper. Yay!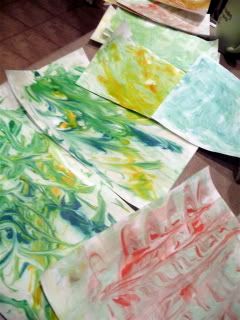 My lighting is bad so the flash is really washing these out. The color is much better in person and they have a nice sparkle thanks to the ink I used.
This is so fun and fast. In fact I just threw it all together on a whim to see if it would work and I know with a little more time some stunning marbling can be done with this method. Tonight I spent a half hour from start to finish, including clean up, (which was so easy since it is shaving cream). And now I have a neat little stack of marbled paper I can use for a million things. What a satisfying little project.
My only complaint is that I used whatever shaving cream we had on hand which was some funky smelling men's sport stuff. So the paper has a 'manly' cologne smell. Ick. But it still beats the nasty wheat paste, oil paint, and turpentine smell the old method used to have. And I already added food coloring and shaving cream to my grocery list so I can do this again. I can't wait to try it with the kids!