The girl and I picked up a needle felting kit at the local yarn shop. Who knew this would be the project that would complete me? Why is it I am only just discovering this tiny corner of heaven? If only I had sheep. I need wool like I need air.
Daddy can't watch her with the needle. We both poked ourselves a couple times, but no blood. We're tough.
Finished little birdies. But we had withdrawal and had to go back for more wool. Seriously... this is a new addiction.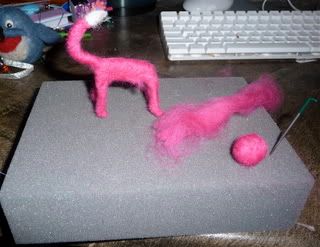 My new project. Hopefully it will be a fairy cat. But I can't figure out how to do a cat face. I am having fun experimenting though. Even the girl started her own little cat today.
Needle Felting, yay!