------------------------
TOY DEPARTMENT
------------------------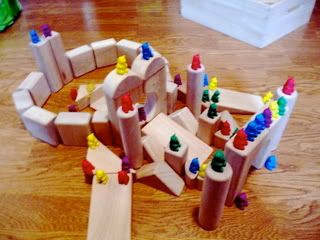 My daughter took a ton of pictures of this cute block/counting bear creation. Really artistic shots. But she used my point and shoot camera that just takes blurry pictures more often than not. Bummer, that.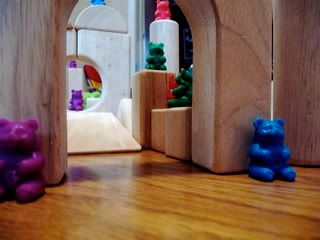 The entry of the bear castle.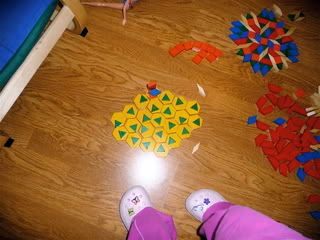 We've been enjoying these pattern blocks. Thanks, Santa.
I could play with them for hours.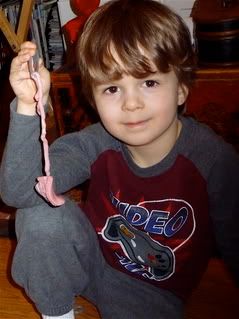 My boy's obsession. A
SmartLabs Body
. We thought my daughter would be all over this toy, but it is my boy that plays with it every morning and evening.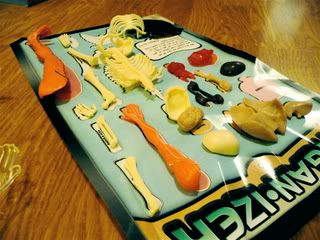 Between this and a really neat
body pop up book
, we are all learning quite a lot about the body. We read a bit each morning at breakfast. Today it was all about the Lungs. Mmmm.... lungs and oatmeal.
------------------------
CRAFT DEPARTMENT
------------------------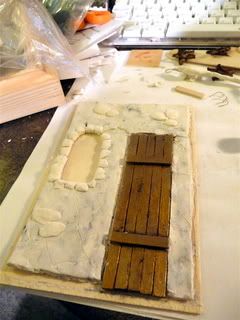 This is my work in progress of a little 3-D doorway that will be in a small shadow box frame. It is going to be a gift for my friend with the rockin Halloween house, so it will have an autumn theme to it.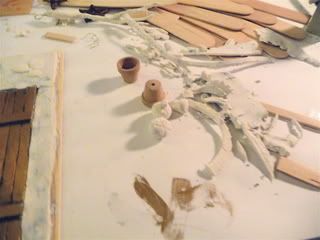 I love paperclay and wood messes. Don't you?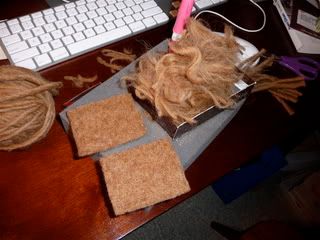 These will hopefully be felted tiles that spell out the word "HUGS". It isn't turning out like I picture it, but I we'll see. I like the idea behind it. I used a chocolate box top as a template for the tiles, so it should have good chocolate vibes. At least the project has that going for it.
----------------------------------------
ORGANIZATIONAL DEPARTMENT
----------------------------------------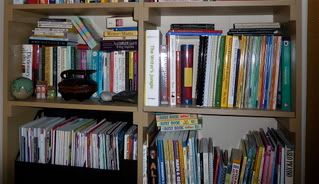 My bookshelves are organized, even the magazines! Yay! This is the end of a loooooong project. I will save the details for another time. I worked on this project so long, it deserves its own post.
Mostly we've been hanging out and enjoying the transition from holiday season to long winter's nap season. Our winter has been a crazy one, like most places it seems. But we've been lucky that it isn't dangerous weather like some are experiencing. It has actually been rather cozy around here with blankets, cocoa and toys. Wishing everyone cozy winter days filled with blankets, cocoa and toys!