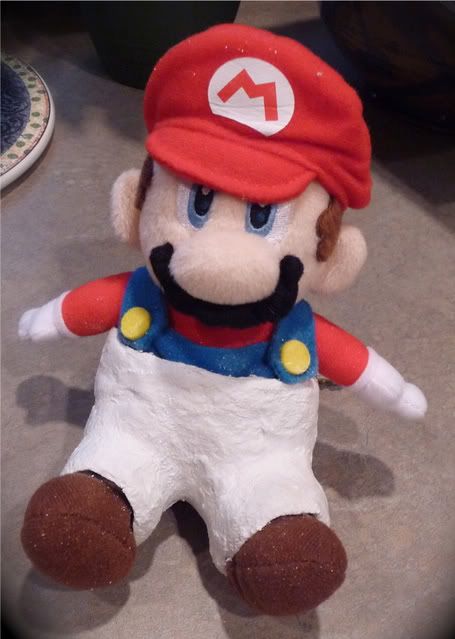 Ever need to comfort a child that is about to get a cast? I wanted to do something for my nephew when I found out he was going to spend some time casted. I thought I would cast his favorite video game character to keep him company during his confinement. It turns out it isn't hard to cast a stuffed animal, so I wanted to share what I did here, to maybe help out someone else who is looking for a little something to give a casted child in their life. You just need a stuffed animal/character, some plaster gauze, water and something to protect the toy while the plaster is wet, like plastic gloves or saran wrap.
This is my sweet little nephew Aidan when he had his second spica cast. This was a couple years ago. The poor little dude has had several surgeries on his wacky little hip and on his last check up it was determined there was still work to be done. In fact, some major work. So it is back to spica land for one of my favorite little people. Only this time around it might be a bit more difficult, because what active three year old boy wants to sit around for a couple months in a near body cast?
When a kid goes through this kind of thing I am always at a loss for wanting to do something, anything to help. So I came up with a little project to merge Aidan's love of video games (Mario specifically) and his upcoming surgery. That is when I decided, Mario also had a bum hip. Who knew? And also needed to have surgery that involved a long spica confinement. The two can keep each other company. It was a really easy project actually and something to keep in mind if a little one you care for ends up in a cast.
First I bought some plaster gauze at Hobby Lobby. A nice big roll was only $3.00. You just cut this up in strips and dip it in water, smooth it out and go ahead and smooth it onto the item you want to 'cast'.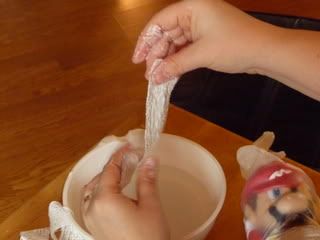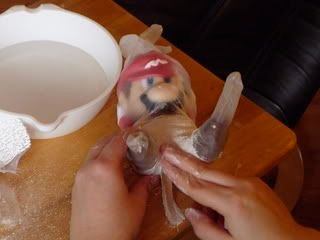 Notice I protected Mario top and bottom with plastic gloves as the wet plaster gauze can be rather messy. I will trim the gloves off later with scissors. I also used a little regular tape to hold Mario's legs in the spica cast shape. Just a few pieces, not a ton. Then just started to cover his legs with little strips of plaster gauze.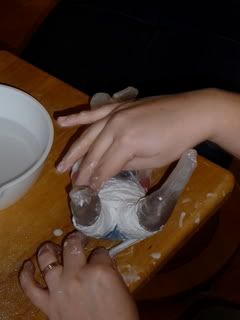 It was a pretty quick project and even though it was a little messy, it was really easy to clean up. I want to make sure he is good and dry so there will be no mildew issues later, so I am letting him sit for a day or two before I seal the cast. I will seal the cast with Modpodge to give it a surface that is easier to clean since he will be in a hospital. That might make the cast look less realistic, but it the ability to clean it far outweighs any aesthetics for something like this.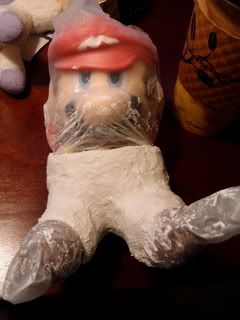 Here he sits drying out. Sort of looking like a freaky bondage Mario in this picture actually. Yikes. Hopefully, he will make my nephew deal with the process a little bit better. If anything the project helped me feel I could contribute a small something.
If you have the inclination to do such things, I am sure my sister would love any prayers, good vibes or healing thoughts sent out their way next Friday for a successful hip reconstruction surgery and fast healing for Aidan.